FIT SARTORIUS EVENTS
FIT SARTORIUS EVENTS
FIT SARTORIUS EVENTS
FIT SARTORIUS EVENTS
FIT SARTORIUS EVENTS
FIT SARTORIUS EVENTS
Thursday May 27th / 12pm PDM
Duration: 45 Minutes
If every day you want to be better ,eat healthily, improve yourself, see yourself stronger and in better shape, but every day passes and is consumed without you succeeding.
If you cannot get out of your comfort zone due to fear or weakness, if you think that your world without obstacles is more pleasant but that you still cannot find the balance of a healthy and happy life, this conference is for you. I will help you with my 30 years of experience in fitness and mental motivation on the issue of winning this battle!
Get Your Ticket Today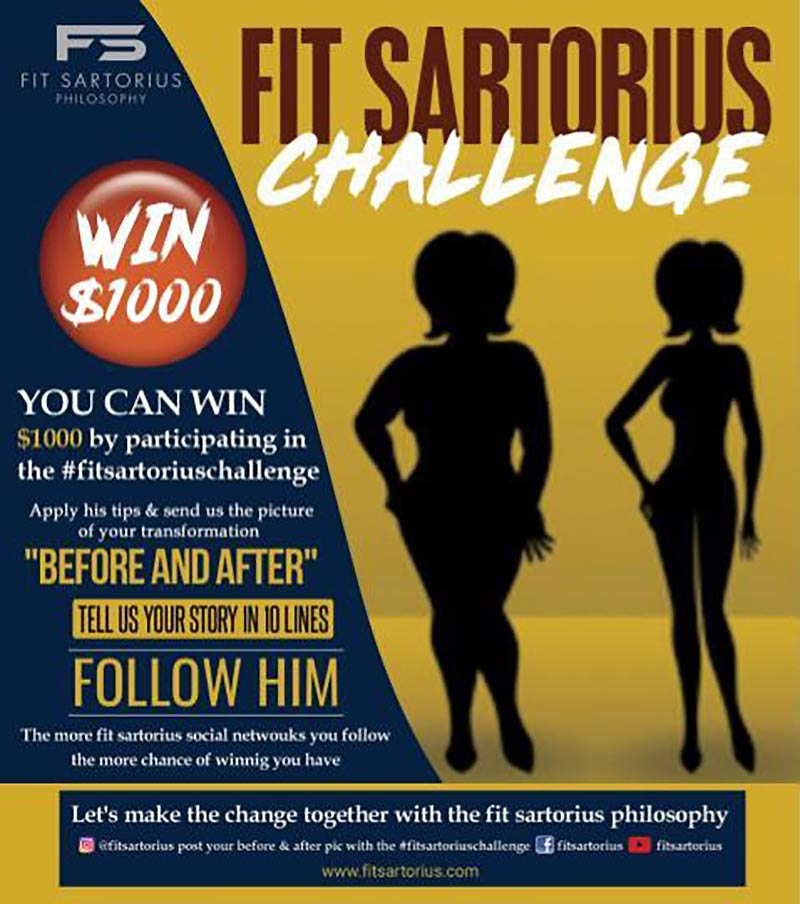 Don't limit your challenges. Challenge your limits.
Tell us your story and show what you're capable of! Take part in the #fitsartorius challenge today.
How to participate in the giveaway:
Send us a direct message with the following:
In 10 lines or less tell us the story of your fitness transformation. Tell us your story of the challenge you took on. Show the world what is possible! Submit your "before" and "after" image. Include your email address. Follow @FitSartorius on Instagram and @FitSartoriusPhilosophy on Facebook.
Prizes
– Every month the best Before/After image will win $100
– A copy of Fernando Sartorius's training books (Spanish Version)
– One-on-One virtual training session with Fernando Sartorius
We are giving away a $1000 bonus to the most spectacular before/after transformation of 2021. Sign up now! The contest is open until December 30th, 2021.
Find Out More